Have those precious memories of yesteryear recorded on VHS tapes, and/or 8mm and Super 8 video reels? the media of the day?  Most of us have those tapes sitting around, collecting dust, because you don't have a way to play them.  We can take your memories and preserve them on DVD at an affordable cost.  Got the Super 8 and/or the Hi8 tapes?  The Mini DV Video Cassette tape? We can convert them as well.
We have several options in converting them to DVD.  If you have more than one event on the tape, and most of us did when we recorded events to tape, we will put each event on a separate DVD, at your request, or we can put them as different events on one DVD.  The choice is yours.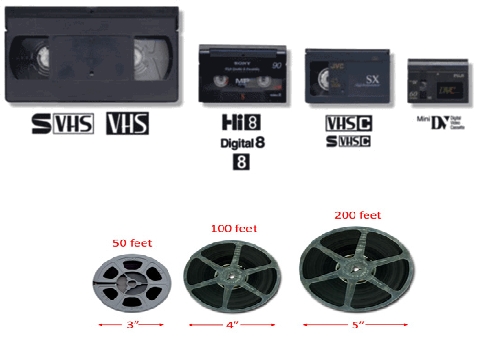 If you choose to have multiple events from one tape on separate DVD's, the 1st. two DVD's are included in the price.  Each additional DVD is $1.00 per DVD.
We will begin the conversion process as soon as the tapes are received, and depending on the amount of material to be converted, we can have the finished DVD to you within one week of receiving your tapes.  Once we receive the tapes, we can give you a more defined timeframe.
Each DVD will have a printed label, with the title of the event.  If you would like more info on the DVD, we ask that you send that info to us with the tapes.
You don't have to be in our area, you can mail the tapes to us.  We will mail the finished product along with your tapes to you.  We will mail anywhere in the Continental United States.
To inquire for more information, please Contact Us!